Frequently Asked Questions
There is no doubt that the expungement laws in South Africa can be confusing and convoluted. Our goal at CRR is to provide a one stop resource for South African expungement information. As you browse through the site you will find a wealth of knowledge about what exactly expungement is, what the process of expungement entails, and whether your particular situation is eligible for expungement. Here is a list of the most common frequently asked questions about removing a criminal record:
Q. Do I qualify to remove my criminal record?
The quickest and most accurate way to determine if you qualify to remove your criminal record is to take our Free Eligibility Test. This test applies all the latest expungement laws and criminal circumstances. The test takes about 60 seconds and provides immediate results.
As most criminal records are minor, the majority of clients qualify to remove a criminal record now, or at some point in the future.
Q. Is it legal to remove my criminal record?
Yes. Prior to 2009 all applications to remove a criminal record had to be submitted to the President to determine if a criminal record could be removed. In 2008 there was an amendment to sections 2 and 3 of the South African Criminal Procedure Act (51 of 1977) known as the Criminal Procedure Amendment Act (65 of 2008). This new law came into effect on the 6th May 2009. In summary, the new law says that those convicted of a minor offence, determined by the type of sentence imposed, 10 or more years ago, qualify for expungement (without the need of a Presidential Pardon). The sentence must have been a suspended jail term, correctional supervision or a fine that didn't exceed R20,000. This law makes it legal for us to remove your criminal record following an administrative process through the Department of Justice based on specific criteria. The option for a Presidential Pardon application remains for all criminal convictions that do not meet the standard 10 year expungement criteria. Other classifications of criminal records can be removed immediately without the 10 year waiting period. Examples: Removal of a pending case through a Criminal Record Centre administrative process and a set aside application for Admission of Guilt cases.
Q. What is expungement?
Expungement is the lawful process of removing one or more convictions from your criminal record.
Expunging your criminal record in South Africa is the process of applying the Department of Justice under the South African Expungement of a Criminal Record in terms of the Criminal Procedure Act, 1977 (Act 51 of 1997). If the expungement application is granted you will no longer be considered convicted of the crime, and your criminal record will be permanently removed off the national criminal database. Subsequently, once the conviction is expunged by the Department of Justice you can truthfully tell employers, your family, and all other interested parties that you have not previously been convicted of a crime. Furthermore, the expunged conviction will no longer show on criminal record checks.
Q. Why is an expungement firm essential?
The South African expungement process is a complex legal process. It is not only essential that the appropriate documents are filed properly, but that the many legal intricacies are thoroughly addressed in the appropriate manner, otherwise it is highly likely that your expungement application will be denied by the Department of Justice. CRR is the only firm in South Africa to concentrate completely on criminal record clearing, and our expertise will optimize your chances at a successful expungement process.
Q. Why is expungement important?
Until fairly recently with advent of the internet and the subsequent development of easy access to the national criminal database, a person's criminal history was unlikely to be discovered by a potential employer, or anybody else for that matter.
Even though criminal records were always a matter of public record, most employers did not devote the time to manually sifting through stacks of paper criminal records at the local courthouse. Today a thorough background check can be done with the stroke of keyboard, and these background checks are used by potential employers, potential landlords, potential lenders, and anybody else that wants to get a grasp on your history before initiating a relationship with you. If anybody runs a background check on you after the expungement process has been completed, your criminal history will not appear on the report. Consequently, in this tough job market it is more important than ever to address your criminal history. Expungement relief gives you a new start in life.
Q. Who is eligible for the standard 10 year expungement?
If your criminal conviction is older than 10 years and you received one of the following sentences you are eligible for the standard 10 year expungement:
The postponement of the passing of sentence in terms of section 297(1)(a) where the persons was discharged in terms of 297(2) or the person was not called back to appear before the court in terms of section 297(3).
A sentence discharging the person with a caution or reprimand provided for in section 297(1)(c).
A fine only, but not exceeding R20,000.
A sentence of corporal punishment before corporal punishment was declared unconstitutional.
A sentence of imprisonment with the option of a fine but not exceeding R20,000.
Any sentence of imprisonment that was wholly suspended.
Correctional supervision as provided for in section 276(1)(h) or (i).
Periodical imprisonment.
Convictions that do not meet the above criteria can be removed using the Presidential Pardon application process (Serious Crime Expungement) or other administrative methods | Learn More.
Do I qualify? Find out within 60 seconds >
Q. What if I have multiple convictions?
If each conviction meets the required criteria and you haven't been sentenced to prison in the last 10 years (without the option of a fine), you are eligible to apply to have each of your convictions removed from your criminal record using one or a combination of expungement packages.
Q. What can I expect from CRR?
We will handle everything for you from start to finish. We will always be here to answer any questions you might have along the way and we will keep you constantly updated on the progress of your case (T&Cs Apply, subject to case type). We pride ourselves not only on providing top notch expungement services to all our clients, but also on providing impeccable customer service. Below is a general outline of our process:
You will complete the online sign up, free assessment process and payment.
An online account will be established for you during the sign up process wherein you can view your case details, monitor the progress of your case and communicate with us securely via online messaging. This allows you to have 24/7 access to the details of your case.
We will fully prepare the initial application and all required supporting documents using our expertise in South African expungement laws.
We will file all completed documents with the Department of Justice. All filing fees are included in our fixed fee.
The Department of Justice will decide whether to grant expungement based on the application.
If your application is successful you with receive an official signed order by the Criminal Record Centre declaring that your convictions(s) have been expungd (Expungement Certificate).
Q. What are the benefits of getting my criminal record expunged?
Other then the mental relief you experience with removing your criminal record there are many tangible benefits that an expungement offers:
Removes the conviction(s) from your criminal record.
Your past conviction(s) will not show up in the police clearance databases used for background checks and Police Clearance Certificates.
You can truthfully, and legally, answer "NO" on job applications when asked if you have ever been convicted of a crime.
You can greatly increase your earning capacity by becoming eligible for more employment opportunities.
You become eligible for many types of professional licences, certificates and certain visa applications.
You can tell friends and family that you have not been convicted of a crime.
You have the satisfaction of forgetting the past for good and moving forward into a more positive future.
Q. How many applications are successful?
We've cleared over 10,000 criminal records with a 99% success rate.
Combined with our 100% money back guarantee and 105% best price guarantee, there really is no risk to you.
Q. What if I have already applied?
We cater for both new and existing applications. Everyday we hear from customers who have used a different expungement firm and not getting results.
You may of attempted the process on your own and gone directly to the Department of Justice and now it's been 6 months.
Whatever the situation, we can take over your case. After payment and one signed Power of Attorney document (which you can scan and email back to us) we'll immediately take over your case and get the results you were looking for.
In cases where the previous expungement firm hasn't applied correctly and we need to start the case from the beginning (which we'll know in a matter or days or even hours) we'll waste no time resubmitting a new application on your behalf (the correct way:) at no additional cost.
Note: The Department of Justice requires a recent criminal report included in the application to expunge your criminal record. If we need to resubmit a new application we'll need this document (which we can obtain on your behalf in record time (5-10 days) with an additional cost).
Q. How long does it take?
Each expungement package has different timelines. Learn More
As an example, the standard package takes 12-14 weeks* or less.
That means we'll have your criminal record removed over half a year sooner and saving you thousands in expungement fees.
You are truly receiving the fastest service at the lowest price. Guaranteed.
We utilize highly sophisticated systems to constantly track and monitor your application progress 24/7/365. You are immediately notified regarding the process and movement of your application at each and every stage. Furthermore, you will receive weekly email and SMS progress report notifications (opt-out available) and access to your account to view a real-time progress report.
*From the time of submission to the Department of Justice and excludes the time taken for you to send and process the required documentation & criminal record removal at the criminal record centre. Disclaimer
Q. Is there a way to speed up the expungement process?
Yes. We provide a fast track solution* to speed up the expungement process in urgent situations at no additional cost.
In addition to providing improved logistical and administritive timelines plus door-to-door courier collection and delivery of the required documents, the Department of Justice provides an internal fast track process in the following situations:
You received an offer for new employment or a promotion.
You are at risk of losing your current employment.
You applied for a work visa.
You applied for a travel visa due to a family emergency.
You applied for adoption.
Supporting documention will be required detailing the situation and showing that it is subject to providing a clear criminal record by a specific date. We assist in completing and submitting the supporting documention to the Department of Justice on your behalf.
*This is a best effort service with no guarantees that the Department of Justice with consider the fast track request. Only available on the Get It Fast™ package.
Q. I don't qualify for expungement, what other options do I have?
Many.
We are the only firm in South Africa that specializes in all expungement and removal cases.
Examples: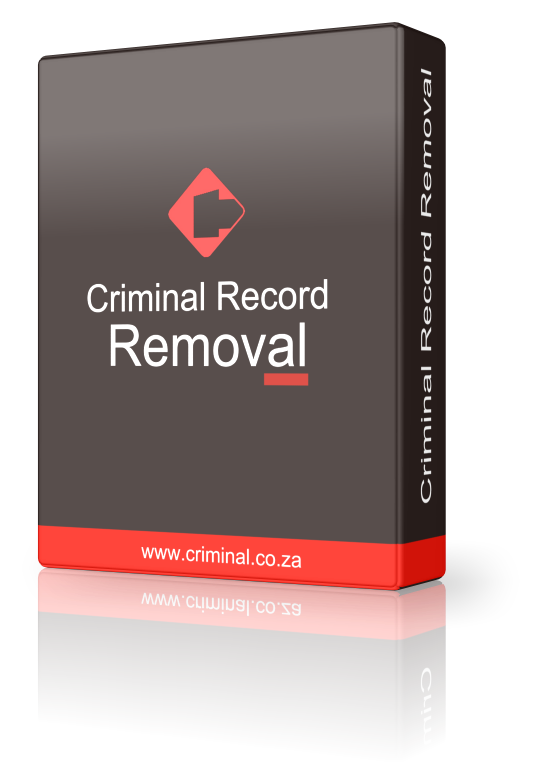 If you were under the age of 18 when arrested, the waiting time is 5 years from the conviction date. Do I Qualify.


If your conviction isn't older than 10 years and it was an admission of guilt, then we can immediately apply to set it aside. Learn More | Do I Qualify.

If your case has been withdrawn, become dormant or aquitted and it still comes up in a criminal background check, we can have the case removed off your criminal record immediately. Learn More | Do I Qualify.

If you were convicted for a serious crime, as determed by the sentence, we can apply for a presidential pardon. Learn More | Do I Qualify.